---
Absolute Lifting Hya Serum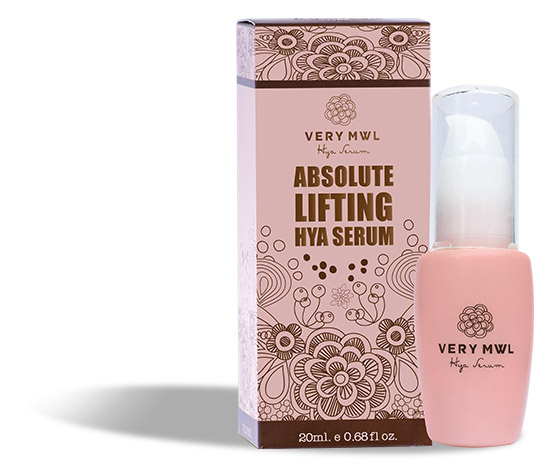 Tighten and redefine you facial skin to look younger with Absolute Lifting HYA Serum. This colorless, fragrance-free, lightweight and non-comedogenic gel can easily absorb into your skin and is suitable for every skin type, even the very sensitive one. Packed with potent moisturizing ingredients, this serum will hydrate and improve your skin complexion. It will also balance and boost your skin's elasticity. After applied in 5 mins with a firming and lifting massage focusing on areas where the skin tends to droop, it will plump up your skin, making fine lines and wrinkles less noticeable.
The balancing effect together with the regular massage will bring oxygen and more blood flow to the areas and , therefore, will give a healthy and natural glow to the complexion.
How to use: apply twice times a day, after cleansing your face and toner. Using the tips of your fingers makes tight circular motions over the lines and massage along the side of your nose past the corner of your mouth and over your cheekbone and up to your ears. Push your skin up, then out, never down because this will cause sagging. For the forehead, massage the frown lines horizontally (to left and right, as shown in the picture). Gently rub back and forth to pull the skin out of its lined positions. Leave the serum to absorb and dry on your skin before using your other skin routine.
* Test on your arm 24 hours before applying on your face.
Ingredients: WATER, PROPYLENE GLYCOL, POLYSORBATE 20, GLYCERIN, GLUCOSE, BETA-GLUCAN, HYDROXYPROPYL METHYLCELLULOSE, PULLULAN, PHENOXYETHANOL, ALLANTOIN, SODIUM HYALURONATE, XANTHAN GUM, PORPHYRIDIUM CRUENTUM EXTRACT, FUCUS VESICULOSUS EXTRACT, ETHYLHEXYLGLYCERIN, BUTYLENE GLYCOL, HEXAMIDINE DIISETHIONATE, ARBUTIN, NIACINAMIDE, TRANEXAMIC ACID, CITRIC ACID, SODIUM SULFITE, MAGNOLIA OFFICINALIS BARK EXTRACT, EUCALYPTUS , GLOBULUS LEAF EXTRACT, SIGESBECKIA ORIENTALIS EXTRACT, SOPHORA , ANGUSTIFOLIA ROOT EXTRACT, GLYCYRRHIZA GLABRA ROOT EXTRACT, SAURURUS , CHINENSIS EXTRACT, GLUTATHIONE
* Your face skin might feel tight after using HYA Serum because the ingredients are working together, forming a thin film and firming your skin; not because the serum dried your skin out.

** Please do not layer other cream or foundation right away before letting the serum set on your skin since this will clump them together.

*** The result will depend on individual's skin condition. Please study the ingredients before using.
Absolute Lifting Hya Serum 20ml